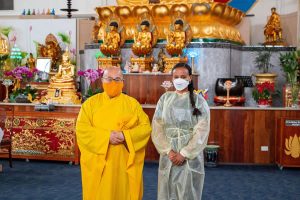 Jumping back to Melbourne, cohealth has opened a pop-up vaccination clinic at the Quang Minh Buddhist temple in Braybrook, in the city's west.
It will operate from 10:30am to 4:30pm until October 8 and has the capacity to deliver about 500 vaccines per day.
The temple's abbot, Thich Phuoc Tan, said they wanted to get behind the vaccination drive because it aligned with the Buddhist efforts to "end human suffering".
"We all are suffering, some greater than the other," Mr Thich said. "We have a choice to come out of this, and at the moment, I think the best choice is to get everyone to get vaccinated."
Cohealth's Kim Webber said taking the vaccine to places where people felt safe and supported would help the state hit its vaccination targets.