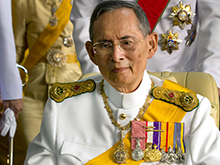 The Buddhist Council of Western Australia expresses it's sincere and heartfelt condolences to the people of Thailand and to the Thai community of Australia at the death last Thursday of His Majesty King Bhumibol.
His Majesty was a great leader of the Thai Nation for seventy years and used his compassion and wisdom and great leadership skills combined with Buddhist principles to guide the nation through many challenges. He will be deeply missed in Thailand and around the world.
We fellow Buddhists from all traditions in Australia, have deep faith that these guiding principles of Buddha's teachings will endure and continue to light the way of the future for His Majesty's successor.
As we all know, there are strong links between people of all faiths in both our countries, but especially in the Buddhist communities, and ethnic Thai communities living in Australia, within which are many long and deep ties which will continue always.
May the memory of the excellent qualities of His Majesty continue to warm our hearts into the future.